OEM Bowl Parts of Decanter Centrifuge
Reliability, quality, and performance are the reasons you invested in a oem bowl parts of decanter centrifuge in the first place. Protect your investment, and maintain decanter centrifuge performance by trusting SEPARATECH Certified Service for ongoing maintenance, emergency service, OEM quality parts, and other repairs.
For a decanter centrifuge, the bowl is the most critical part besides the scroll.
The bowl of decanter centrifuge mainly consists of a large end hub, a cylindrical section, a conical section, and a small end hub.
The conical section has one (or two) row(s) of solids discharge openings. The discharge openings are in most cases lined with replaceable bushings or liners made from abrasion resistant material such as stellite or tungsten carbide material.
The large end hub has four or more liquid discharge openings.
Centrifugal casting bowl body
Both cylindrical section and conical section are made from centrifugal casting. This procedure is ideal for all rotationally symmetrical components. The molten steel is poured into the mould at a temperature of up to 1,600 °C (2,912 °F).
Centrifugal force pushes the contents against the outer wall at up to 120 times earth gravity. This forces all impurities and gas inclusions towards the inner surface, leaving behind a pure, highly dense structure. Any residues that do remain are then removed, to create a flawless component.
Various stainless steel
EN 1.4362, UNS S32304
EN 1.4462, UNS S32205/S31803
EN 1.4470, UNS J92205
EN 1.4410, UNS S32750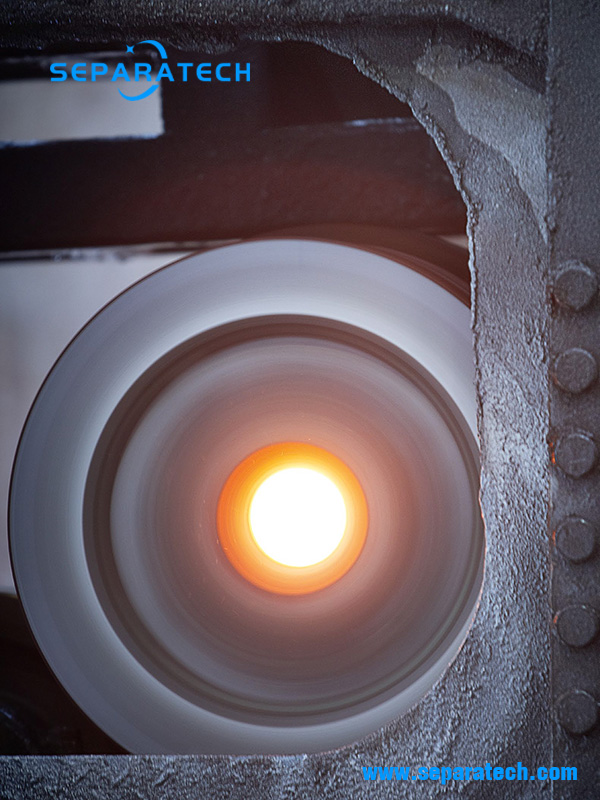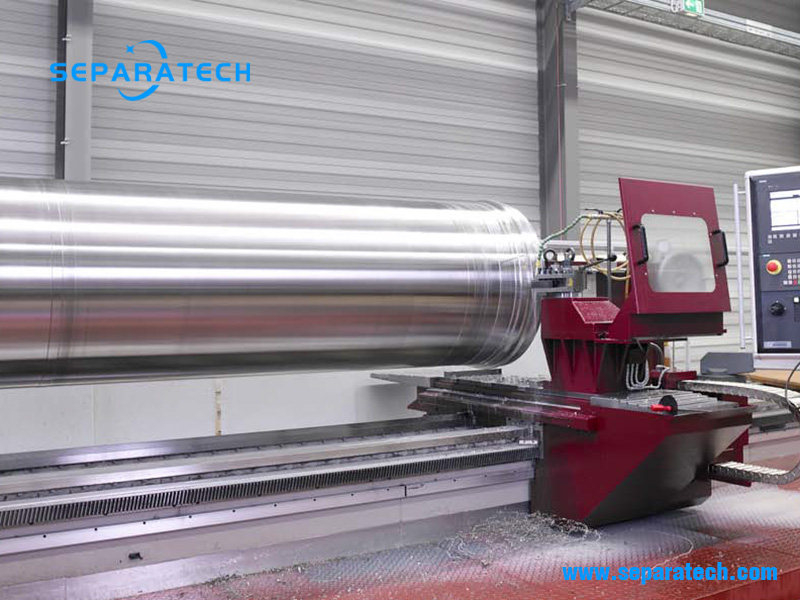 CNC machining OEM bowl parts of decanter centrifuge
All metal processing is done by CNC machines, including turning, drilling and milling. Heat treatment is carried out in a professional heat treatment factory, X-ray ensures welding quality.
We use honing technology to ensure absolute dimensional accuracy, and can also deal with fitting and assembly on request. Our range is rounded off with a reliable delivery service.
This translates, for our customers, into no time wasting with coordination tasks, and maximum processing reliability: Short production-times and consistently-high quality.
For over decades, SEPARATECH has provided quality industrial centrifuge products backed by superior service and aftermarket support. Today, the tradition continues, as SEPARATECH products are supported by an international team of engineers and service professionals who know how to keep your decanter centrifuges running at maximum efficiency. Our factory-trained service technicians are available for on-site/on-demand repair service, training, troubleshooting, and consulting.